AgriLender does not charge a fee to its visitors for the service it provides nor do we collect or sell any sensitive personal information about our visitors. AgriLender exhibits personal and business loan products, loan rates, terms, amounts, and other information for illustrative purposes to provide examples of financial products which may be available to some visitors of our website. Not all visitors will qualify for all products and options displayed on our site. All underwriting decisions, including loan rate and term setting, et cetera are made by the financial institution with whom the borrower applies and in some cases, AgriLender may be compensated by the financial institution for introducing our visitors to their offerings. Because the loan rates and terms are set by the financial institution with whom the borrower applies, they are subject to change at any time, and it is the borrower's responsibility to review loan rates, terms, and all other details, including the financial institution's privacy and legal policies, before accepting any loan offer or taking any other action.
Apply for a farm loan at AgriLender with fast financing and fair interest rates. Check your rate today without impacting your credit score.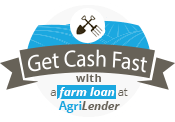 Farm Loan Types
If you know the type of loan you wish to apply for, select one from our list.
Don't see a loan for your specific need? Just click the 'Apply Now' button located below and start your application. Farm loans are available for any farm related expense.

Farm Equipment Loan

Farm Mortgage Loan

Unsecured Farm Loan

Landscape Business Loan

Farm Loans for Veterans

Farm Loans with Bad Credit

Farm Credit

Hobby Farm Loan