Thank you for your interest in AgriLender™. If you have a question, suggestion, or comment, please feel free to contact us using our online contact form.
To check your rate or to see which loan options are available to you, click here - applications are not accepted via the contact form.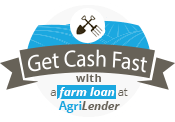 Farm Loan Types
If you know the type of loan you wish to apply for, select one from our list.
Don't see a loan for your specific need? Just click the 'Apply Now' button located below and start your application. Farm loans are available for any farm related expense.

Farm Equipment Loan

Farm Mortgage Loan

Unsecured Farm Loan

Landscape Business Loan

Farm Loans for Veterans

Farm Loans with Bad Credit

Farm Credit

Hobby Farm Loan