Farm loan rates are primarily determined by your credit score and credit history. To receive a farm loan interest rate as low as 9.99% APR, you should ideally have what is considered an 'A' grade credit score. If you have poor or bad credit, your loan rate will be affected, but you will possibly still qualify for reasonable interest rates.
Apply for a farm loan at AgriLender with fast financing and fair interest rates. Check your rate today without impacting your credit score.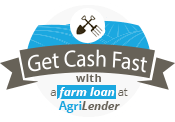 At AgriLender, we match you with loan options that fit your financial needs. Interest rates for farm loans vary based on the type of loan - such as farm mortgages, unsecured personal loans, and short term financing. Apply today to see which loan types and rates are available to your farm.
Farm Loan Types
If you know the type of loan you wish to apply for, select one from our list.
Don't see a loan for your specific need? Just click the 'Apply Now' button located below and start your application. Farm loans are available for any farm related expense.

Farm Equipment Loan

Farm Mortgage Loan

Unsecured Farm Loan

Landscape Business Loan

Farm Loans for Veterans

Farm Loans with Bad Credit

Farm Credit

Hobby Farm Loan