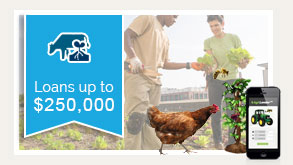 Managing daily operations, fixing farming equipment, and buying farm land are only a few of the pricey costs of running an agricultural business. Growing and selling food is expensive! Whether you are a young, beginning farmer or an established, seasoned rancher, Agrilender provides farm credit services specializing in fixed interest terms and friendly financing programs. You can apply for up to $500,000 with rates starting as a low 5.99%.
Agrilender offers farmers access to farm credit services - a system for farmers to apply for unsecured loans that can be tailored specifically to their situation.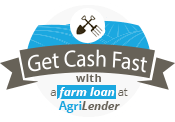 For traditional rural farming communities and alternative farming systems like sustainable indoor farming or urban agriculture groups, online access to credit turns applying for farm credit into a fast and simple process. In less than a week of approval, you can expect your cash loan to be transferred to your bank account - free for you to start using however you see fit. Agrilender can help you acquire financing to build the foundation for a successful farming business.
Farm Loan Types
If you know the type of loan you wish to apply for, select one from our list.
Don't see a loan for your specific need? Just click the 'Apply Now' button located below and start your application. Farm loans are available for any farm related expense.

Farm Equipment Loan

Farm Mortgage Loan

Unsecured Farm Loan

Landscape Business Loan

Farm Loans for Veterans

Farm Loans with Bad Credit

Farm Credit

Hobby Farm Loan